IT'S ALL ABOUT TEXTURE
These days, adding texture is everything: It's literally the difference between hair – and hair STYLE. And it's the all-important tweak that boujees things up and makes your look totally your own. We've got three ways to get you there – for glam days, dirty-hair days, and everything in between. Here, with the help of Global Brand Storyteller, Olivia Smalley, we explain how – and when – to use our fav texturizers!
YOUR GO-TO, EVERYDAY, "AMP UP MY HAIR" TEXTURE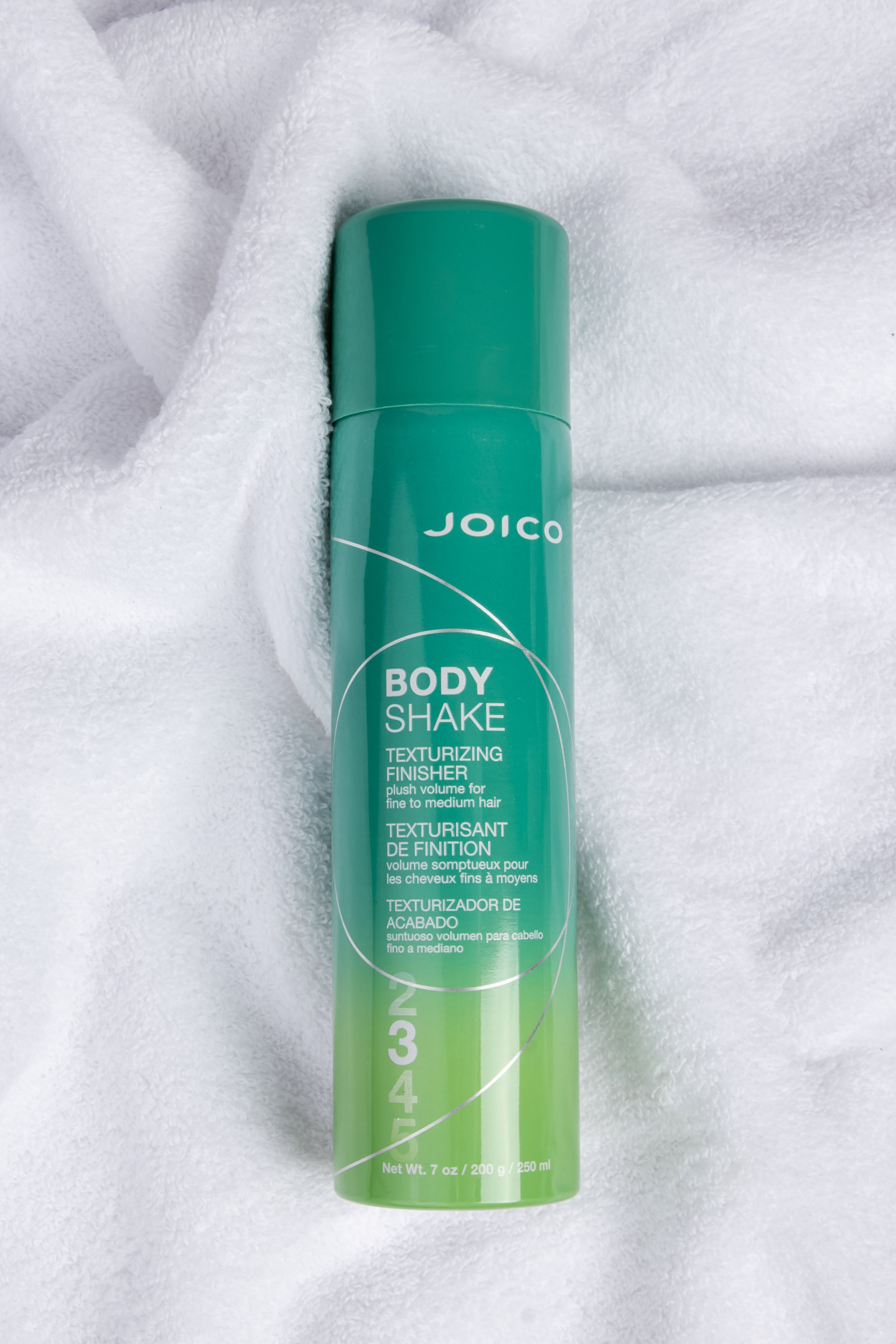 Look in the mirror: You washed, dried, styled, and curled your hair today or yesterday.
You want to see: Some big, bomb, lift-and-bounce in your hair.
Here's the product to grab: Body Shake Texturizing Finisher
Spray the dry-mist product liberally throughout your hair and you will literally see and feel instant thickness and volume, with waves/curls springing back to life. Olivia scrunches hair as she goes along to maximize lift.
Why it works: To get the plush, airy, bombshell volume you've always wanted, reach for our buildable texturizing spray that's never stiff or sticky. One hit of the button and the power of Body Shake becomes "abundantly" clear — delivering a bouncy fullness, pollution protection, instant lift and volume in seconds. Formulated with a high-performance combination of Rice Starch and unique Copolymers, you get malleable fullness that's super natural-looking without a of powdery residue. The ideal foundation for any updo, this quick-drying, last-all-day formula safeguards hair against everything from heat styling to the ravages of the environment.
YOUR "I HAVEN'T WASHED MY HAIR IN FOREVER" TEXTURE
Look in the mirror: You washed, dried, styled, and curled your hair three days ago or longer.
You want to see: Hair come back to life, some lift at the crown, and polished ends.
Here's the product to grab: Hair Shake Liquid To Powder Texturizing Finisher
Because this product starts as a liquid, Olivia shakes the bottle and then spritzes it over her hair, smoothing and pulling on strands as she goes. Why? This helps "push the product into the hair" and also helps her tidy the ends. As it instantly dries to a powder, she begins scrunching hair upwards to refresh strands and build lift. Finally, to pump up extra volume at the crown, she sprays additional Hair Shake at her roots.
Why it works: Shake the unique, flash-dry formula and you'll instantly know this extraordinary texturizer is like nothing you've tried before: Created with Bentonite Clay and Silica for oil absorption and a glam grip, Hair Shake protects strands from pollution and the elements, while delivering a touchable, velvety-soft mega finish that you can spray, layer, and play with to your heart's content. It's the perfect foundation for those all-day updos, and drama-filled styles.
View this post on Instagram
YOUR GLAM, BEACHY, "TRYING-NOT-TRYING" TEXTURE
Look in the mirror: You've just curled your hair and it's too perfect/too "done."
You want to see: Beachy texture and the kind of casual look that takes the intentional element out of your styling. Something that gives your newly-finished curls a looser, more natural vibe.
Here's the product to grab: Beach Shake Texturizing Finisher
After curling her hair, Olivia lets her 'do cool down. (This preserves the longevity of the curls, and creates the perfect foundation for Beach Shake.) Next, she shakes the can and begins spraying texture throughout the hair – lifting and dropping sections as she goes. For extra height and volume, Olivia will flip all of her hair to one side and spray from underneath; she'll also flip hair upside-down and go at it from that angle as well.
Why it works: This seaside styling spray delivers all the feels without the salty, crunchy experience you get with most beachy texturizing products. Delivering protective separation in a single, transformative spray, Beach Shake creates perfectly "imperfect" separation with a silky plush formula that you can play with, touch, and retouch to your heart's content. Formulated with exotic Coconut Oil, this transformative spray allow you hydrate and carve out a beachy texture without a typical frizzy finish. The benefits – including protection from pollution — are immediately visible; and perfect for medium-to-thick hair types looking for a quick-dry texturizer with a satin finish.