CELEB SECRET: GO LIGHT TO GO DARK
Featuring Joico Celebrity Artist, Jill Buck, of Salon 901
Sometimes, it's all about lift — even when clients want to go darker. Joico Celebrity Artist, Jill Buck of Salon Nine Zero One explains the secret to this counterintuitive technique in today's Secret Menu reveal: a blonde grow-out client who's done being blonde. See the unique way Jill tackles her dimensional transformation, here:
THE COLOR STORY
"My client had old, grown-out blonde hair and didn't want to be blonde anymore, but she still wanted dimension," explains Jill, who instantly knew that tackling this color challenge involved going at it from a surprising direction. "In order to give that to her, I had to lighten her first, and tone everything darker so she would end up with dimension and long-lasting color." Why does this work? According to Jill, toning all over with a lowlight would result in no dimension in her client's regrowth area.
JILL'S START TO FINISH TRICK
The key to bringing out vibrancy and shine before every color service? Starting and ending with Defy Damage ProSeries: Pro Series 1 is a dry aerosol spray that is applied in short bursts to dry hair prior to any chemical service. It's designed to protect bonds in the hair from degradation that occurs during color, lightening, perming, and straightening services. Big bonus? There's no need to reformulate your color, adjust your developer, or change your process timing–just shake the can vigorously, apply to clean dry hair then apply Jill's fabulous Root Rap formula.
When processing is complete, rinse and apply Defy Damage Shampoo, followed by Pro Series 2 for five minutes. This game-changing product will restore and regenerate bonds while locking in color: the perfect way to bring out the radiance in red.
secret-menu formula and step-by-steps
Starting Level: 5 with previous highlights
Prep Treatment: Defy Damage ProSeries 1: Bond-Protecting Color Optimizer Spray
Formula 1: Blonde Life Lightening Powder with 20 Volume LumiShine Developer
Formula 2 (Root shadow): LumiShine Demi-Permanent Liquid 1 oz 7SB + 1 cap 4N with 5 Volume LumiShine Developer
Formula 3 (All-over toner): LumiShine Demi-Permanent Liquid 10NW + 9V with 5 Volume LumiShine Developer
Post Treatment: Defy Damage ProSeries 2: Bond-Strengthening Color Treatment
THE HOME CARE SECRET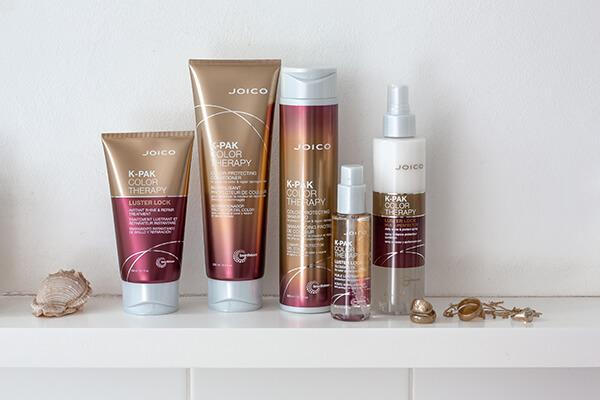 To keep her client's hair radiant and healthy, Jill recommends K-PAK Color Therapy Shampoo and Conditioner. This total shade-protection system keeps delivering long after you leave the salon, providing the ultimate merger of K-PAK reconstruction power, plus total shade and UVA/UVB protection; maintaining 82% of hair color for up to 8 full weeks. Instantly repairing and strengthening damaged hair with nourishing African Manketti Oil, Argon Oil, and Evening Primrose Oil, Color Therapy creates hair that's instantly 9X stronger with twice the shine. K-PAK's SmartRelease Technology releases RoseHip Oil, Arginine, and Keratin to strengthen and protect hair from future breakage, while repairing years of damage in just a single use.
WATCH JILL SHOW YOU HOW
View this post on Instagram